Ewa Jozefkowicz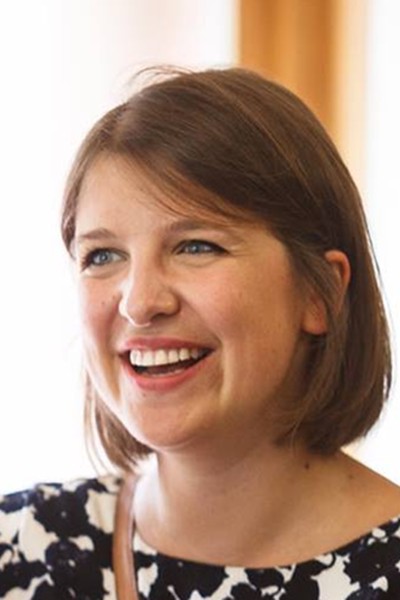 Agent: Kate Hordern
Zephyr/Head of Zeus published Ewa's new middle-grade novel, THE WOLF TWINS, on 14 September 2023. Zephyr/Head of Zeus have published five middle-grade novels by Ewa: THE DRAGON IN THE BOOKSHOP (July 2022), THE COOKING CLUB DETECTIVES (June 2021), THE KEY TO FINDING JACK (September 2020), GIRL 38: Finding a Friend (March 2019, shortlisted for the Derbyshire Schools' Book Award and the Northeast Book Awards) and her debut THE MYSTERY OF THE COLOUR THIEF (May 2018, shortlisted for the Waterstones Children's Book Prize and longlisted for the Branford Boase Award). Ewa's novels have sold to five languages.
Ewa Jozefkowicz is a graduate of UCL, works for a technology company and lives in North London, with her husband and twin daughters.

@EwaJozefkowicz

Follow Ewa on Instagram
Praise for THE DRAGON IN THE BOOKSHOP:
"A gorgeous read featuring strong friendship, books, a Polish legend and a dragon. Loved it!" A.M. Howell, author of THE SECRET OF THE TREASURE KEEPERS
"A glorious fairytale adventure full of friendship, unlikely heroes and magical Polish folklore. A book-lover's delight" Eve Wersocki Morris, author of THE BOOK SINGERS
"(Ewa's) best book yet. Deeply felt and enchanting, while delving into Polish folklore with characters to adore. Brilliant." Chris Soul, teacher and children's book reviewer
"Superb. A book for those of us who are on the side of dragons. Which really means everyone." Sue Chambers, Waterstones, Finchley Road
Praise for THE COOKING CLUB DETECTIVES:
"A beautifully observed story about the power of food and friendship." Fiona Noble, The Bookseller
"[The Cooking Club Detectives] will be one children will be flocking to in droves! Tackling food poverty and online bullying head on, and featuring a puppy called Sausage (I can't even speak for the genius of it all), I dare to defy anyone who will not instantly fall in love with Erin and her fellow detective buddies." Onjali Q. Rauf, author of THE BOY AT THE BACK OF THE CLASS
"A gently unfolding detective story that delicately unpacks themes of food poverty, friendship and the importance of community spaces … The writing gives space for a range of perspectives and characters' background stories to be heard (as well as their recipes!)" Books for Topics, Ones to Watch – Middle Grade Round-up for Summer 2021
"A warm and engaging story with appealing characters. Many themes are explored such as settling into a new school and making friends, including with those whose lifestyle is very different from your own." Books for Keeps
"This delightful detective story has an engaging plot and likable characters. It subtly explores new friendships, the importance of community and issues of food poverty and online bullying. Easy-to-follow recipes for delicious meals and snacks are dotted throughout the chapters, encouraging readers to develop their own culinary skills." BookTrust
"Sensitively tackling themes of online bullying and food poverty, this is a heartfelt story about the importance of community and the power of food to connect people. With recipes dotted throughout the story, [it] is also perfect for encouraging children to get active in the kitchen." Scotland on Sunday
Praise for THE KEY TO FINDING JACK:
"I thoroughly enjoyed Ewa Jozefkowicz's latest novel about family, friendship and listening – to others as well as to the inner voice that both chides and encourages … THE KEY TO FINDING JACK is full of tantalising clues and hidden facts … A brilliant read and an author to watch!" Alison Brumwell, Chair of CILIP Youth Libraries Group
"Jozefkowicz writes wonderfully about family, friendship and self discovery." The Bookseller
"Heartwarming, life-affirming and a wonderful page-turner." Chris Soul, children's book reviewer
"The plot has been carefully and skilfully crafted to be a story within a story … It is so refreshing to find a well-written powerful standalone story for young adults that I hope it will be widely read and enjoyed." The School Librarian.
Praise for GIRL 38:
"Jozefkowicz shows empathy for her young heroines, exploring key themes of friendship, family and finding yourself with compassion and optimism." Fiona Noble in the Bookseller Editor's Choice
"Accessible, readable, and highly immersive … the children's modern relationships are so well depicted … This is strong and impactful writing packaged in a simple story with mirrored events and clever plot turns." Minerva Reads, Book of the Week
"Second-time author Ewa Jozefkowicz packs not one but two stories within a story." Observer, Books of the Month.
"A compassionate tale of friendship and family." i newspaper
"Strong themes of bullying, friendship and difference, but the author's light touch balances the deeper issues with a lot of heart." BookTrust
"With convincingly drawn characters, relatable issues and important values at its heart, this is a thoroughly enjoyable read." Books for Topics
"Reading this sweetly told morality tale is to return temporarily to the world of children's fiction fifty years ago … There is always room for novels like this concentrating on the theme of moral growth while also telling a good story." Books for Keeps
"Eloquently explores what friendship really means and what sacrifices and acts of courage need to be made when you truly care about someone, regardless of age or time … A thought-provoking read … Although this is a short novel, its impact is strong." Just Imagine

Praise for THE MYSTERY OF THE COLOUR THIEF:
"a heartwarming story about families, friendships, school, nature, hope and self-confidence." Huffington Post UK
"Ewa Jozefkowicz tackles big themes with sincerity and a keen insight into the pre-teen mindset." The Financial Times
"A really impressive, nuanced debut looking at how to cope with and survive life." Fiona Noble in the Bookseller
"This extremely readable novel lays bare the emotions of friendship and family, as well as exploring the impact of nature on our urban lives, and the ways in which we can find hope and confidence in ourselves." Minerva Reads
"A dramatic and inspirational story that gives the reader a shiny beacon of hope, even in the bleakest of times." Mr Ripley's Enchanted Books
"Moving and emotionally highly charged, this is a haunting story that will stay with you long after the last page is read." Parents in Touch
"A heart-breaking yet hopeful tale of grief, friendships lost and found, a family in the grip of depression and a little swan fighting for survival. Ewa Jozefkowicz's story paints a beautifully poignant tale of the loneliness, isolation and fear that guilt can bring, and the need to accept help when it seems like the hardest thing to do." Nicki Cleveland, Miss Cleveland's Reads
"The book paints a convincing picture of a harrowing time in a young life … by no means a gloomy read, offering ample humour, hope and optimism." Book Trust, who have chosen it as a Bookmark Book of the Month for May.
"This is an authentically told story that poignantly portrays life during dark times for twelve-year-old Izzy… Powerful feelings are handled in a compassionate way, characters are authentically nuanced and the plot is compelling." Books for Topics