PJ Brackston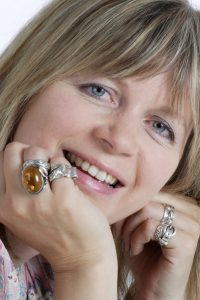 Agent: Kate Hordern
P.J. Brackston's Detective Gretel series had a World English Language release in June/July 2019, in paperback, audio and eBook. This witty fantasy crime series set in eighteenth century Bavaria features the Private Detective Gretel (yes that Gretel, who is now thirty five, very large and still living with her brother Hans). The titles in the series are THE SORCERER'S APPENDIX (Pegasus USA November 2017) , THE CASE OF THE FICKLE MERMAID (Pegasus USA January 2016), ONCE UPON A CRIME (Pegasus USA 2015) and GRETEL AND THE CASE OF THE MISSING FROG PRINTS (Pegasus USA 2015). The Detective Gretel series has sold to two languages. Paula Brackston is the author of the New York Times bestselling novel THE WITCH'S DAUGHTER. She lives in the Hereford with her partner and their two children.
www.paulabrackston.com and check out the Gretel section of Paula's website.

@DetectiveGretel

P.J. Brackston's YouTube Channel
Praise for the Detective Gretel series:
"This is the wittiest series you could ever wish for. Clever, original and addictive." Rebecca Tope, author of The Cotswold Mysteries series and The Lake District Mysteries series.
Praise for THE SORCERER'S APPENDIX:
"If you love a tongue-in-cheek mystery (and who doesn't?) you really need to try THE SORCERER'S APPENDIX (which) pokes fun at fairy tales and mysteries alike, but it's also a serious whodunit." Historical Novels Review
"A nice change of pace for mystery readers. Fantasy with a touch of wry." Booklist
"A brother and sister of fairy-tale fame stumble from one complication to another in their search for a missing magician. This fourth series entry features a resourceful but not entirely lovable heroine, zany secondary characters … give (P.J. Brackston) high marks for creativity." Kirkus
"Bestseller Brackston's comic mystery series … hits its stride with this often hilarious fourth entry … the wry humor is a delight." Publishers Weekly
"a funny, clever imagining of the adult lives of Hansel & Gretel … Recommended" Itsallaboutthebook
Praise for THE CASE OF THE FICKLE MERMAID:
"Readers seeking a diversion in the Grimms' fairy tale world should have fun." Publishers Weekly
Praise for ONCE UPON A CRIME:
"a rollicking and entertaining novel. Gretel, the only character with a brain, is thoroughly enjoyable and relatable" Historical Novel Society
"Gretel's smart and sarcastic attitude soon won me over … in what turned out to be a pretty decent mystery" Reading the Past
"The premise is clever and cute … the book is written in a very lighthearted way with delightfully witty vignettes matched with a solid plot" Bookgasm
"there is nothing, absolutely nothing, that compares to PJ Brackston's marvelous 'Brothers Grimm Mysteries' featuring, in 18th-century Bavaria, the amazing Gretel (yes, that Gretel) and her eating-disordered but charming brother Hans" Kingdom Books
Praise for GRETEL AND THE CASE OF THE MISSING FROG PRINTS:
"Bestseller Brackston melds folktale whimsy with a sardonic adult voice in the rollicking first of a new series set in 1776 Bavaria." Publishers Weekly.
"Brackston's deft mystery (and series launch) set in 18th-century Germany dances a fine line between spoof and satire, with a hearty mix of fairy-tale lore thrown in. Larger-than-life characters are balanced with a smart plot that is sure to appeal to fans of Jasper Fforde's "Nursery Crime" series." Library Journal
"A great mix of historical and cozy mystery with fairy tale … definitely a fun read … the writing is elegant" Mystery Tribune
"this charming … cleverly crafted mystery is full of wry humour" Audiofile Magazine